Ain't Misbehavin' Window Card Entire Original Cast Signed Carter, de Shields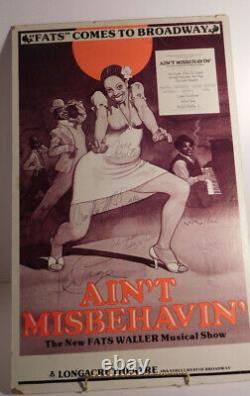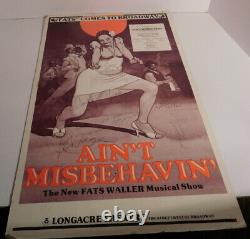 AIN'T MISBEHAVIN' Window card Signed by NELL CARTER ANDRE DE SHIELDS KEN PAGE CHARLAYNE WOODARD ARMELIA MCQUEEN 1978 One of the most exuberant musical revues ever to bounce across a Broadway stage. Honored with three Tony Awards including Best Musical and Best Featured Actress, NELL CARTER. Truly an ensemble piece buoyed by five flawless performances, AIN'T MISBEHAVIN' ran on Broadway for 1604 performances. The show is an honest tribute to the Black musicians of the Harlem Renaissance and to that singular period between the Wars when the Cotton Club and the Savoy entertained Manhattan's elite with lush tunes, raunchy lyrics and swing, swing, swing. And here we have a window card illustrated by one of Broadway's most celebrated artists.
James McMullan has illustrated nearly ninety posters for theatre. McMullan has said that in his work he is delineating the human body's subtle changes of posture in one psychologically charged image that reflects the play's central drama. This window card represents that credo to a T. There she is front and center, bigger than life, reaching out to draw you into her world of Harlem's nightclubs in the 1930s. What a superb artistic concept breathing life into one of McMullan's best-known illustrations. AIN'T MISBEHAVIN' is a rare example of the creative team that got it right, every last detail down to the most minute. This musical is now a classic that keeps coming back seemingly of its own volition and is not likely ever to be out of the public's eye for long. Window card is in VERY GOOD condition. Corner tips are bumped and slightly bent. Upper right corner shows about 1/2 of fraying and about 1/16th of an inch of paper loss -- hardly noticeable.
Bottom left about 1/2 paper loss at the very tip of corner. Back of card has adhesive residuals (no longer tacky) of old tape. Entire cast of five has signed and their signatures are unfaded and still quite legible. A quite rare, now-vintage memento of an important show.