CREEPSHOW original theater poster SIGNED BY CAST with 13 AUTOGRAPHED SIGNATURES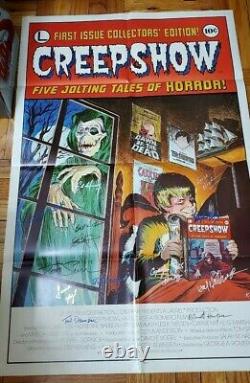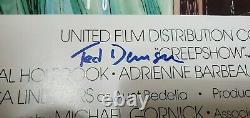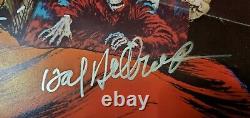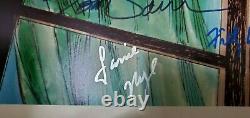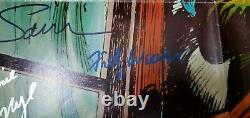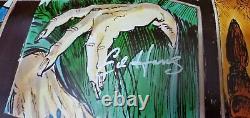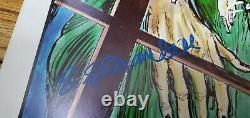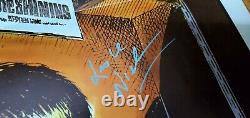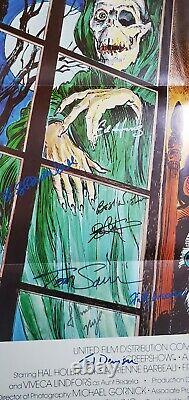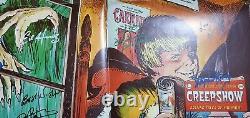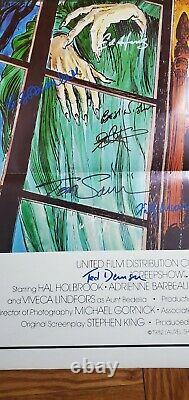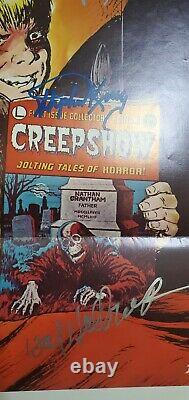 My father who was an autograph seeker for most of his life passed away last year. He use to work at the Sherry netherland hotel in NYC, The Omni Berkshire in NYC and the NY hilton hotel back in the 60s 70s and 80s. When celebrity guest would stay over he would do his best to get the autographs for his posters and photos even though it was against policy to hastle guest...
However, my dad used to have a way with words and occasionally he would get his stuff signed. He kept all his posters in tip top shape. Growing up as a teenager myself, my dad got me into the world of movie memorabilia. He taught me all the ins and outs of autograph seeking.... Although i just can't see myself hounding celebrities like he use to do.
I myself work at the Lotte NY palace hotel. I've sorta followed the family tradition. I do seek autographs but only at conventions and horror shows. Occasionally at the hotel i work at, i would talk to a guest into signing me something if i could get away with it..... And only if it's real hard to get that autograph for an item that i have....
But i won't put my job in jeopardy for it that's for sure. When my dad died, i found this original Creepshow poster in his private stash of memorabilia. My dad got some of the hard to get autographs from celebrities that stayed at the hotels he worked for.
Some of those stars are no longer with us and some who are alive that are just impossible to get.... I was astonished at some signatures he got..
EG Marshall, Ted Danson, Leslie Nielsen, Carry Nye, Hal Holbrook, Fritz Weaver, Stephen King, Robert Harper and ED Harris. I decided as a fulfillment to my late fathers quest was to fill in the necessary gaps of signatures myself by getting it signed by those who are still living with us. I went to several horror conventions and got it signed by the rest of the cast. Tom Savini, Tom Atkins, Gaylen Ross and Adrienne Barbeau. So in all, it's 13 signatures.
I took up close photos of all the signatures. Take your time looking at the signatures. I wanted to get this poster authenticated but the cost is so high to do so.
I just know the signatures are real because i got some of them and my dad got the rest of the others sigs. My father would never get fake stuff. I can testify this with his years of working at the hotel meeting all sorts of celebrities throughout his tenure there... And that is legit enough for me because i know my father.
However i don't expect you to take my word for it. But look at the up close photos shots of the signatures...
I know it to be legitimate.... And if i don't get to sell then that's okay too. This item is just too hard to get now and it's a perfect investment for my kids. So i wont be dissapointed. And if i dont sell then good!! I didn't want to sell this in the first place! I've just got laid off from my job at the hotel because of this pandemic and employment isnt gonna cut it alone. So i got no choice now. This wasn't sopose to happen now! Unfortunately life is that way... ONLY REAL COLLECTORS NEED APPLY PLEASE! The item "CREEPSHOW original theater poster SIGNED BY CAST with 13 AUTOGRAPHED SIGNATURES" is in sale since Tuesday, December 1, 2020. This item is in the category "Collectibles\Autographs\Movies". The seller is "1347kirby" and is located in Bronx, New York. This item can be shipped worldwide.
Size: 27x41
Country/Region of Manufacture: United States
Original/Reproduction: Original
Signed by: 13 actors
Autograph Authentication: Not Authenticated