Frederick Hart Ex Nihilo Working Model (cast Marble) Sculpture 2001 Maquette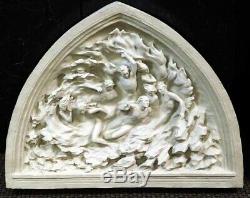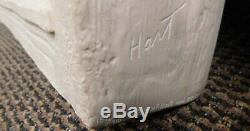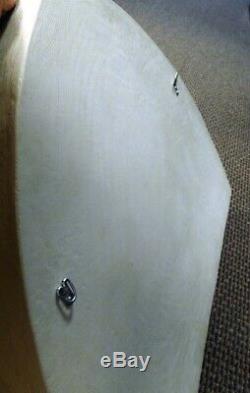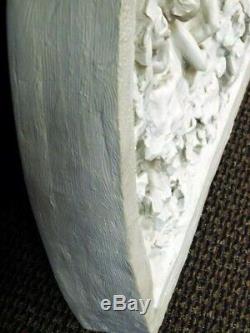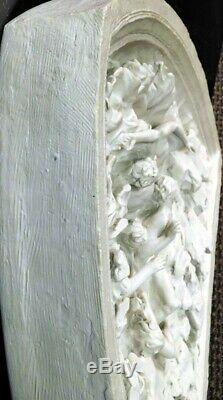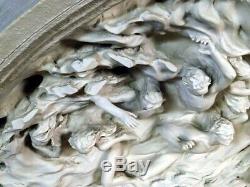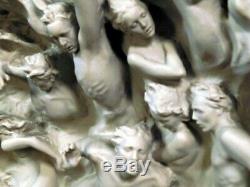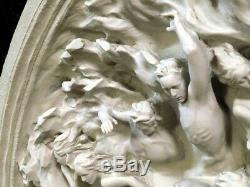 We have a 100% guarantee of authenticity, and a 30. Ex Nihilo Working Model (cast Marble) Sculpture 2001. Dimensions : 28" x 35" x 4 Deep. Edition Size : 1-910 Numbered I-XC Roman Numerals A-B Collaborators Proofs.
Certificate of Authenticity and appraisal is included. Frederick Hart has been described as America's greatest representational artist. He has gone completely against the grain of the contemporary art world; substance and beauty are the chief criteria of his work. My work isn't art for art's sake, it's about life. I have no patience with obscure or unintelligible art - I want to be understood.
Born in Atlanta in 1943, the traditions of Southern country life have remained with Frederick Hart long after his youthful years spent in South Carolina. Continuing that tradition, in 1987 he built a country home on 135 acres of open farmland and rolling hills in the Piedmont region of northern Virginia. The estate, named Chesley in remembrance of his late sister, epitomizes Hart's deeply held beliefs about beauty, truth, tradition, and permanence. His lifestyle was a far cry from the young, aspiring artist who applied for a job at the Washington National Cathedral in 1967 to learn the skill of stone carving.
Hart recalls, The Cathedral became a magical place for me, a place outside of this century. The wonderful Italian stone carvers who worked there were the last of a generation, a link back to the major American architectural works of the early 1900's, to buildings like the Supreme Court, The Federal Triangle, and Grand Central Station, as well as to the great American sculptors Augustus Saint-Gaudens and Daniel Chester French.
By 1971 Hart was ready to leave the Cathedral. For the next three years he worked in his own unheated studio, "almost starving to death" as he sketched his ideas for the Cathedral international competition to commission the design for a series of "Creation" sculptures for its main facade.
Hart remembers, It was to be a contemporary idea of Creation, a vision of an unfolding universe. Inspired by Pierre Tellhard de Chardin's writings on science and theology, Hart envisioned a great allegorical work which would evoke the heroic struggle for awakening and consciousness.
The selection committee for the Cathedral was impressed with the power and vision of his scale model studies and in 1974 awarded him the project. The Creation Sculptures were completed in 1990, almost twenty years after Hart began work on them. The central tympanum, Ex Nihilo Out of Nothing, consists of eight larger-than-life-size figures emerging into existence from a 21-by-15-foot "primordial cloud, " as if from a dream. Comments master carver Vincent Palumbo, who worked with Hart for almost a decade,'Rick is one of the greatest sculptors of classic sculpture we have today or are going to have in the future. You can see the expressions of these human bodies, the details he puts into them. I felt like I was working on a live person coming out of the stone.
In addition to Ex Nihilo, The Creation Sculptures include The Creation of Day, The Creation of Night, Adam, St. The statue of Three Soldiers which he created for the Vietnam Veterans Memorial in the nation's capitol has in Hart's words, a wholly unnerving, enigmatic, existential quality which I think is very appropriate for the Vietnam War.
The fighting men portray the veterans' bond of love and sacrifice and mutual devotion as they stare at the wall, almost as if they are searching for their own names. The artist expresses the concept behind his design. I see the wall as a kind of ocean, a sea of sacrifice that is overwhelming and nearly incomprehensible in its sweep of names... I place these figures upon the shore of that sea, gazing upon it, standing vigil before it, reflecting the human face of it, the human heart. Cast in bronze, this historic sculpture - now one of America's most famous sculptures - was dedicated in November, 1984, at a major ceremony attended by President Ronald Reagan and more than 100,000 veterans. In a century marked by nihilism, abstraction, and deconstruction, Hart exemplifies a returning tide to aesthetic and moral agendas embodied in the great ages of art in the past. Both the Vietnam sculpture and his Cathedral work are reflections of a humanist vision of art. In 1985 President Reagan appointed Hart to a five-year term on the Commission of Fine Arts, a seven-member committee that advises the U. Government on matters pertaining the arts, and guides the architectural development of the nation's capital. In 1987 Hart received the Henry Hering Award from the National Sculpture Society for sculpture in an architectural setting, shared with architect Philip Frohman (National Cathedral work).
In 1988 he was the recipient of the quadrennial Presidential Design Excellence Award (Vietnam Memorial work). Hart has used his celebrity to inveigh against the decline of moral and aesthetic standards in contemporary art, and to propound his alternative vision for a great rebirth of art. " That rebirth must begin, Hart says, by rediscovering and renewing the "discarded axioms" and forgotten standards of past art - such as that "ancient trinity of truth, beauty, and goodness, " and the idea of art as "service to values and ideals it holds in greater esteem than art itself. In 1993 Frederick Hart received an honorary degree of Doctor of Fine Arts from the University of South Carolina for his ability to create art that uplifts the human spirit, his commitment to the ideal that art must renew its moral authority by rededicating itself to life, his skill in creating works that compel attention as they embrace the concerns of mankind, and his contributions to the rich cultural heritage of our nation.
On January 24, 1996 a white Italian marble state of Richard B. Was unveiled in the rotunda of the Russell Senate Office Building.
The new statue created by Hart over a two year period honors the distinguished senator from Georgia who served from 1933 until his death in 1971. Hart's latest contribution to our nation's capital stands as the focal piece in the rotunda entrance of the building which was named in honor of Senator Russell in 1972. The artistic and historic importance of The Creation Sculptures, Three Soldiers, and The Cross of the Millennium, a work in clear acrylic using striking and unique techniques developed and patented by Hart, are featured in Masters of American Sculpture: The Figurative Tradition from the American Renaissance to the Millennium.
Donald Martin Reynolds is one of the foremost authorities on sculpture in the United States. Carter Brown, Director Emeritus of the National Gallery of Art in Washington, D. It is breathtaking to see an artist with the technical abilities and devotion to craft of Frederick Hart combine these gifts with an ability to go to the brink with them, but somehow to keep the inner, emotional, intellectual, and spiritual force of the work dominant.
Brown and Tom Wolfe, author of many popular books including The Right Stuff and Bonfire of the Vanities, are among the noted American authors and historians who have written about Hart's contributions to figurative sculpture in the definitive book Frederick Hart, Sculptor published in 1994 by Hudson Hill Press. The book is now in its fourth printing. Hart's more intimate clear acrylic sculptures (he pioneered the use of acrylics in figurative sculpture, a technique which he calls "sculpting with light") are inventive and revolutionary; physical and sensuous, yet spiritual; direct, yet spiritual; direct, yet graceful and subtle. His figures are classic while his medium of clear acrylic is most modern and technologically advanced.
In the tradition of the great Renaissance and baroque masters who have presented works to the Pope for over 1000 years, Hart met Pope John Paul II in May, 1997 at a private ceremony in the Papal study in Rome. In celebration of the coming 2000 year anniversary of Christ. If outside the continental USA. Listing and template services provided by inkFrog.
The item "Frederick Hart Ex Nihilo Working Model (cast Marble) Sculpture 2001 Maquette" is in sale since Thursday, May 23, 2019. This item is in the category "Art\Art Sculptures". The seller is "american_design_ltd" and is located in Aurora, Colorado. This item can be shipped worldwide.
Size: Medium (up to 36in.

)

Region of Origin: US
Artist: Frederick Hart
Style: Impressionism
Listed By: Dealer or Reseller
Medium: Ceramic & Porcelain
Date of Creation: 2000-Now
Original/Reproduction: Original
Year: 2001
Features: Signed
Width (Inches): 34
Color: White
Placement: Wall
Subject: Figures & Nudes
Originality: Limited Edition Print
Height (Inches): 28