Original Cast Bronze Signed Collectible Two Rams Ram br Williams Art Deco Figure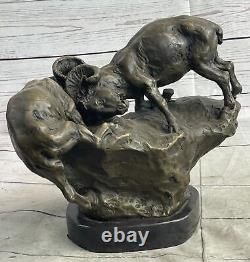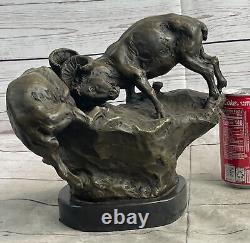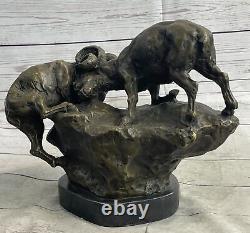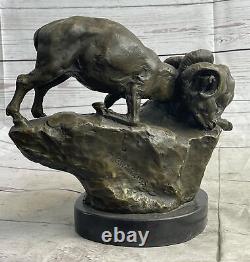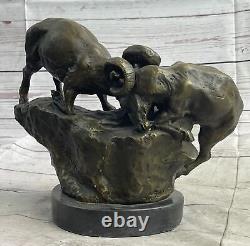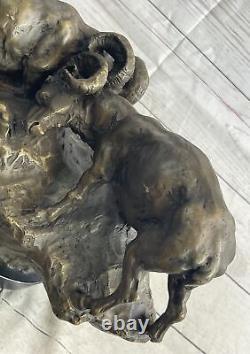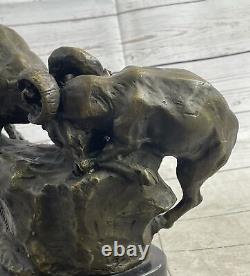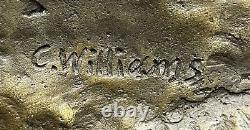 This sculpture is in perfect condition. Bronze Dimensions with Marble Base: Height 10" X Width 11".
Witness the ultimate showdown captured in bronze - a riveting depiction of two Rams poised at the onset of a fierce confrontation. One ram stands on all fours, its gaze fixed intently ahead, seemingly preparing for its next decisive move.
The intricate detailing of the horns adds a layer of authenticity and realism to the scene, making these majestic creatures come to life. Rams have long been symbols of authority and leadership, embodying power and nobility. Throughout history, the ram has been associated with strength and courage, often finding its place in crests, coat of arms, and other heraldic symbols. This sculpture masterfully conveys the ram's energy and determination, showcasing its significance as a representation of prowess and dominance. Crafted using the time-honored lost wax casting method, this sculpture boasts intricate detailing that pays homage to the art's ancient roots.
The meticulous process ensures that every aspect of the sculpture is captured with precision, resulting in a piece that exudes both grace and beauty. Signed by the artist C. Williams, this sculpture is not only a testament to the artistry of bronze casting but also a striking addition to any space, a perfect gift for those who appreciate strength, resilience, and the intricate artistry of sculptures.