The Office Cast Signed Photo + COA (RARE)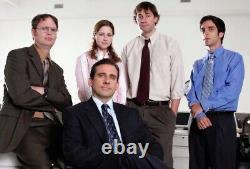 For sale is this beautiful 8x12 photograph that has been signed by the main cast of the hit television show, The Office. This award-winning show has captured the hearts of millions upon millions of fans all over the world. What better way to celebrate the television show you love than to own an autographed photo by the entre main cast of the series? This photograph has been signed beautifully in blue marker and it looks incredibly stunning.
The signatures are large and bold. This photograph has been autographed by 11 cast members including, Steve Carrell. Rainn Wilson, Ed Helms, John Krasinski, Jenna Fischer, B. Novak, Melora Hardin, David Denman, Leslie David Baker, Brian Baumgartner and Kate Flannery.
It doesn't get much better than this. One look at this photo and any Office fan will fall in love. If you're looking for the perfect gift for that special Office fan in your life, then look no further. This beautiful, signed collectible is sure to put a smile on their face. I challenge you to find a nicer Office cast signed photo for sale anywhere else on the internet.
This signed photo IS NOT a reproduction, print, or reprint. It has a hand-signed original autographed photo. This autographed photo will also include a letter of authenticity from a court-certified handwriting expert authenticator. This is to give you peace of mind in knowing that your autographed collectible is the real deal and 100% authentic.
Also, if you know anyone looking for The Office autographs for sale, bring them over to us and will give you a 10% discount on your next order.